2022 SCHOLARSHIP WINNERS 
The Propeller Club of Port Canaveral awarded five scholarships this year, four to graduating Brevard High School seniors and one to a college student who is transferring to a maritime academy. Congratulations to all of our scholarship recipients and thank you to all of the supporters who make it happen!  Thank you to our partners at the Brevard Schools Foundation for supporting our scholarship program!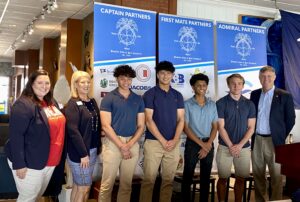 CONGRATULATIONS HELM SENIORS
Congratulations to the Rockledge High School HELM Maritime program graduating Seniors. The Propeller Club recognized them at our May Luncheon. Three of these outstanding students were recipients of Propeller Club scholarships this year. The students are joined in the below photo by their Director and Teacher Sarah Hardy, and members of the Propeller Club's Education Committee who work each year to provide Field Trips, Career Shadow opportunities, and classroom speakers to the students. Special thank yous to the Canaveral Port Authority, Canaveral Fire Rescue, Brevard County Sheriff's Office, Canaveral Pilots Association, Ivey's Construction, Jacob's Engineering, CareerSource Brevard, Coast Guard Station Port Canaveral and Marine Safety Detachment, and all our Port partners who support this program!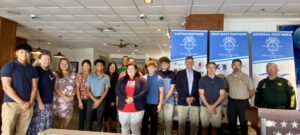 Benefits of Propeller Club Membership
We are a local chapter of the International Propeller Club of the United States, a business network dedicated to the promotion of the maritime industry, commerce, and global trade. Our club brings together the Port Canaveral and Central Florida maritime community by holding monthly luncheons that feature guest speakers. Three months of the year, April, July, and December, we hold special events instead of the luncheon.  We also hold networking Happy Hour events during the year.
There are many benefits to joining the International Propeller Club. These include:
Networking opportunities with other maritime and Port Canaveral community members.
Opportunities to give back through the club's charitable programs, initiatives and support for community events and organizations.
Meeting and engaging elected officials and government representatives.
Being part of a dynamic community of maritime and Port Canaveral area professionals dedicated to improving water transportation and our intermodal transportation system.
Many social events throughout the year to help you build personal and business relationships with others in the maritime community.
Leadership opportunities in your industry.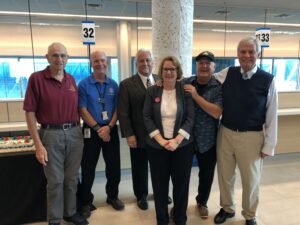 Founding members at the 2019 club's annual meeting and 20 year celebration.
 NEXT EVENTS
JUNE LUNCHEON
June's monthly luncheon will be held at Fishlips in Port Canaveral on 
June 1st. 
Our guest speaker is Bart Gaetjens, Corporate External Affairs Manager with Florida Power & Light. Register online at this link: 
June Luncheon
MARITIME DAY COMMEMORATION
This year's Port Canaveral Maritime Day Commemoration event will be held on Saturday, May 28 at Rusty's Seafood & Oyster Bar, 628 Glen Cheek Dr., in Port Canaveral starting at 10 am.
RSVP/Register online at this link: Maritime Day 2022
This event is co-hosted by the Propeller Club of Port Canaveral; the Navy League, Cape Canaveral Council; and the Space Coast Chapter, USMMA Alumni Association. Maritime Day is May 22 but our event is being held later due to congestion at the port that weekend because of the Thunder on the Beach Boat Races. The event will begin with a Memorial Service on the deck at Rusty's. At 10:30 am attendees will board the Blue Dolphin for a brief Harbor Tour and a wreath laying ceremony. Following the boat tour attendees will return to Rusty's for lunch. Those who do not wish to ride on the boat may wait at Rusty's. Lunch is $30 per person. Any proceeds will be donated to the Sea Cadets, Courageous Division and additional donations will be accepted. 
PROPELLER CLUB OF PORT CANAVERAL
2022 MARITIME PERSONS OF THE YEAR
KURT & NORMA RONSTROM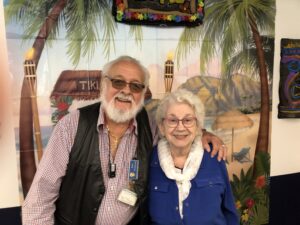 The Propeller Club of Port Canaveral has named Kurt and Norma Ronstrom as Maritime Persons of the Year for 2022.  Kurt is a Charter Member of the Propeller Club of Port Canaveral, a Past President and is also Past President and longtime member of the Navy League, Cape Canaveral Council.  Norma has worked side by side with Kurt volunteering with these organizations and working at their businesses.  The couple met in Miami and were married in 1959.  Kurt was born on the island of Gotland, Sweden and ran away to sea at the age of sixteen, eventually becoming a Marine Engineer aboard Swedish cargo vessels.  He served in the Swedish Navy for 1 ½ years.  Norma was born in Bradford PA.  and after college at Edinboro State Teacher's College, the Cleveland Institute of Art, and Western Reserve University, she moved to Hollywood, Florida and worked for Southern Bell.  After they were married Kurt was drafted and served 2 years in the U.S. Army.  He became a U.S. citizen in 1961.  Together they raised four children and are proud grandparents and great grandparents!
Kurt founded KMD Ship Repair, Inc. in Miami and later relocated to Port Canaveral.  He did ship repair work on a variety of vessels, especially Navy vessels and cruise ships.  When he lived in Miami he helped found the Seafarer's Ministry and later was involved in starting the Seafarer's Ministry at Port Canaveral.  He is well known for his many years of cooking lunches for visiting Seafarers at the Canaveral Port Ministry about once every three months with support from the Navy League and the Propeller Club.  Kurt instituted and has led the Port Canaveral Maritime Day commemoration for twenty years beginning in May of 2001, again with the support of the Navy League and the Propeller Club.  Norma was instrumental in managing and planning events for these non-profit organizations and in KMD business operations.  In addition, she has volunteered extensively playing the piano at Church services including for over 20 years with the Salvation Army.  At one time she was playing the piano at three different churches every Sunday.   
Together Kurt and Norma have had a tremendous impact on bringing together the Maritime Community in the Port Canaveral area and beyond through their many years of dedicated service especially in their efforts with Seafarer Ministries and in making sure that Merchant Mariners and the Maritime industry receive due recognition and honor.  The Propeller Club of Port Canaveral is proud to honor them as Maritime Persons of the Year for 2022 and to give them well deserved recognition for a lifetime of service.
MAY EDUCATION LUNCHEON
The Propeller Club May Luncheon held at Fishlips on May 4 was the Annual Education Luncheon which highlighted the Rockledge High School HELM Maritime Studies Program, awarded scholarships to students going on to post-secondary education in a maritime related field, and featured guest speaker Brevard School Board Chair Misty Belford. In her remarks Ms. Belford stated that although many students fell behind during the pandemic, recent metrics show that the gap is being closed and students are getting back to where they should be. She spoke about the robust offerings of Career and Technical Education programs available throughout Brevard High Schools including the maritime program. Ms. Belford stated that in her interaction with students throughout Brevard Schools she finds the students are engaged and that the future is in good hands contrary to some public opinion! RHS HELM Maritime Director and Teacher Sarah Hardy gave an overview of the past year of the program highlighting Field Trips, Career Shadow opportunities, and the Desktop Ship Navigation Simulators in the classroom.
PROPELLER CLUB OF PORT CANAVERAL
2022 MEMBER OF THE YEAR
JACK CROCKETT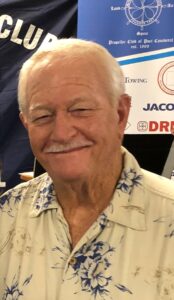 The Propeller Club of Port Canaveral has named Jack Crockett Member of the Year 2022.  Jack is a fifth generation Floridian raised in Brevard County and graduated from Cocoa High School in 1962.  He is a 1966 graduate of the Citadel.  Jack served six years in the U.S. Air Force including service in Viet Nam and at Patrick Air Force Base.  Following his military service, Jack embarked on a business career that took him to the Florida panhandle and back to Brevard County in businesses ranging from hotel management, banking, land development, and charter fishing boats.  Crockett Blvd in Merritt Island is named after him and he served as President of Crockett Groves on north Merritt Island.  For many years he was a force in local Democratic politics and he was instrumental in the passing of the TDC hotel tourist tax with the slogan "the tax you don't pay". 
Jack joined the Propeller Club of Port Canaveral in 2005 and quickly took on leadership positions both at the local level and at the International level.  Jack served as President in 2010 and starting in 2012 served six years as Treasurer of the International Propeller Club.  He was instrumental in helping the IPC navigate some turbulent waters and helped bring the organization back on a steady course.  During his tenure on the International Board, he was dedicated to helping IPC improve administration and communication between HQ and the Ports.  He built strong relationships with club members across the state, country, and overseas.
Jack was the driving force to bring the International Propeller Club Convention to Port Canaveral in 2017.  He successfully brought together a group of local club volunteers and mentored them through the process of planning and pulling off a successful convention which was well received by the international membership.  Jack continues to serve on the Board and especially enjoys identifying new potential club leaders as Nominating Committee Chair.  His passion for the Propeller Club is unsurpassed and he is already advocating for Port Canaveral to host another International Convention!  The Propeller Club is honored to recognize Jack Crocket for his years of dedicated service to the Propeller Club at both the local and International level as well as to Port Canaveral, Brevard County, and our nation.