Welcome Message

The Propeller Club of Port Canaveral, chartered by the International Propeller Club of the United States, is dedicated to the promotion of the maritime industry on a local, national and international basis. The club promotes the maritime industry and Port Canaveral through its many programs and by partnering with similar organizations. Our goal is to educate legislators and the public as to the importance, necessity, and economic impact of all waterborne commerce.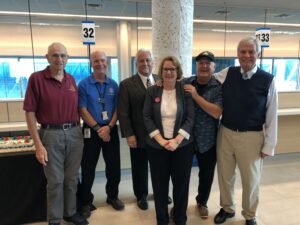 The Propeller Club of Port Canaveral was founded in 1999 with the official name of Propeller Club of the United States, Port of Port Canaveral.  Pictured above are many of the founding members at the club's 20 year celebration in 2019.
The Propeller Club of Port Canaveral has established itself with a solid membership serving our area's maritime and Port Canaveral community. Please consider joining us!
MEMBERSHIP – Renewal or Join
Renew your membership or partnership or join for the first time for calendar year 2021 at these links.
For Renewals click here: 2021 Renewals
For New Members/Partners click here: 2021 New Members/Partners
NEXT EVENT
MAY LUNCHEON
May 5
Our May Luncheon will be held at Fishlips Waterfront Bar & Grill, Wednesday, May 5th at 11:30 am. This is our annual Education Update Luncheon.  We will have an update on the Rockledge High School  HELM Maritime Studies Program and Brevard Public Schools Career and Technical Education Director Rachel Rutledge will be our guest speaker.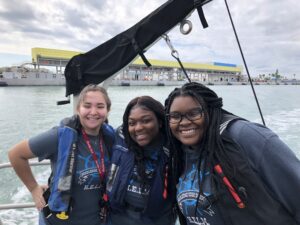 COUNCIL OF AMERICAN MASTER MARINERS CONFERENCE
May 6 – 7
The Council of American Master Mariners is holding their annual conference May 6 and 7 at the Radisson Resort at the Port. Propeller Club legend Capt. Ed Lanni worked to bring this conference to our port.  Propeller Club members are invited to attend the Professional Development Conference on Thursday, May 6 featuring distinguished speakers on the latest industry trends.  Speakers on "LNG as a Ship Fuel" and "Maritime Support of Space Operations" are part of the conference with participation from our local Coast Guard who are on the cutting edge of these trends in maritime!  Members are also invited to the Thursday night Port Dinner at Fishlips and the closing Dinner at the Radisson Resort at the Port. Registration for the conference can be done online at this link: 
https://form.jotform.com/210907810023141
. 
Or you can send in the form provided on the website mastermariner.org.
PROPELLER CLUB NAMES MEMBER OF THE YEAR
The Propeller Club of Port Canaveral has named Tara Ruch as Member of the Year for 2020. Tara currently works as the Sales and Events Manager for Homewood Suites and the Hampton Inn & Suites in Cape Canaveral. She previously worked for the Canaveral Port Authority as Sales & Marketing Manager. Tara is being recognized by the club for her hard work and dedication over the years in serving on the club's board and helping with the planning of club events. Congratulations to Tara on this well deserved award.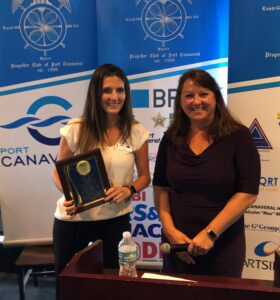 Benefits of Membership
There are many benefits to joining the International Propeller Club. These include:
Invitations to members only events that provide you the ability to network with other maritime and Port Canaveral community members.
Meeting and engaging elected officials and government representatives.
Being part of a dynamic community of maritime and Port Canaveral area professionals dedicated to improving water transportation and our intermodal transportation system.
Many social events throughout the year to help you build personal and business relationships with others in the maritime community.
Leadership opportunities in your industry.
PROPELLER CLUB OF PORT CANAVERAL
2020 MARITIME PERSON OF THE YEAR
MALCOLM "MAC" MCLOUTH
This award recognizes and honors Mac's long history of dedication and service to Port Canaveral, including more than three decades as a port commissioner, plus eight years as a port executive. He has demonstrated more interest and loyal support to Port Canaveral and the Propeller Club than anyone we know. Mac served as CPA commissioner from 1967 to 1996, then from 2009 to 2010. Mac also was the port's deputy executive director of business development from 1996 to 2000. He then was the port's executive director and chief executive officer from 2000 to 2004. The fishing pier at Jetty Park is named for McLouth, who also was a professional engineer. In Dec. 2018, Mac McLouth was honored and named as Port Ambassador Emeritus by the Port Commissioners. McLouth has years of dedicated service to the Propeller Club of Port Canaveral having served as a founding member, board member and is a Past President.