Benefits of Membership
There are many benefits to joining the International Propeller Club. These include:
Invitations to special events that provide you the ability to network with other maritime and Port Canaveral community members.
Meeting and engaging elected officials and government representatives.
Being part of a dynamic community of maritime and Port Canaveral area professionals dedicated to improving water transportation and our intermodal transportation system.
Many social events throughout the year to help you build personal and business relationships with others in the maritime community.
Leadership opportunities in your industry.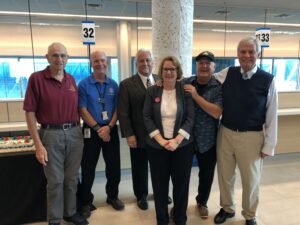 Founding members at the 2019 club's annual meeting and 20 year celebration.
WELCOME ABOARD TO OUR NEW MEMBERS!
Todd McDowell          AOTC
Mike Pisacano 
Richard Kube
Patrick Gerrity          
Annual Meeting & Veterans Luncheon
 November 10, 2021
Following the State of the Port Presentation
Register for the Luncheon only online here: November Luncheon
 Join us for our Annual Meeting and Veterans Luncheon on Wednesday, November 10 at Fishlips Waterfront Bar & Grill at 11:30 am, immediately following the the State of the Port presentation by Port CEO Capt. John Murray.   The State of the Port will be held at Cruise Terminal 3.  The link above is ONLY for luncheon registration and does not include the State of the Port!                     
PROPELLER CLUB OF PORT CANAVERAL
2021 MARITIME PERSONS OF THE YEAR
RADM BOB & BEV MERRILEES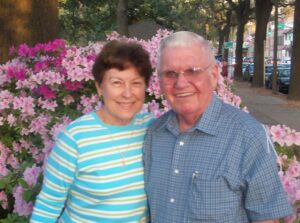 RADM Bob & Bev Merrilees are the Propeller Club of Port Canaveral Maritime Persons of the Year for 2021. The Merrilees have been long time Board members of the Propeller Club.  Bob was a founding member and Bev previously served as Secretary.  They have volunteered for and sponsored numerous events, committees and projects including the ShrimpFeast fundraisers.  
Bob had a dual career in the U.S. Coast Guard Reserve and the Federal Government. He enlisted in the Coast Guard Reserve in August 1961 and received a Direct Commission in 1964. He served as Senior Reserve Officer in both the Coast Guard Pacific Area and Atlantic Area from June 1990 until his retirement in July
1994. Bob's civilian profession was Federal Budgeting up until five years before he retired in January 1998, when he became the Community Relations Officer for NASA, Kennedy Space Center, Florida. Because of his Coast Guard experience he was asked to plan and lead the Coast Guard Reserve's Space Shuttle Launch Support program.  Bev capped off a 30 year federal government career in personnel by serving as Kennedy Space Center Chief of Personnel from 1993 to 1998 when she retired. She received the KSC Federal Woman of the Year Award for 1988, the Exceptional Achievement Medal, and the Exceptional Leadership Medal.  Both Bob and Bev have served on numerous community and non-profit boards.  Bob served as national President of the Reserve Officers Association of the United States from 2003-2004 and is a Past President of the Cape Canaveral Lighthouse Foundation.
The Propeller Club is proud and honored to recognize their contributions to our club, the community, our nation; their tireless promotion of Port Canaveral and the maritime industry and their unwavering support for the men and women of the U.S. Coast Guard!
SHRIMPFEAST 2021
Our annual fundraiser, ShrimpFeast, was held on Friday, October 15 at the Exploration Tower, Port Canaveral. The weather could not have been more beautiful for this event which was held outdoors this year. The event was cancelled in 2020 and was postponed in 2021 from our traditional April time frame. Thank you to all of our members, partners, sponsors, and community family, friends, and neighbors, who helped make this a big success. The funds raised support the club's community outreach programs, especially our support of the Rockledge High School HELM Maritime Studies program and our scholarship program for graduating High School seniors going on to post secondary education or technical training in a maritime related field. Big Thank Yous to Fishlips and Wild Ocean Seafood for the outstanding food, Keep Brevard Beautiful for the clean up crew, Naval Sea Cadets, Courageous Division Color Guard for the Presentation of Colors, Sheriff Wayne Ivey for serving as our guest speaker, all of sponsors, especially Platinum sponsors the Canaveral Port Authority and Pediatric Care Group Orlando, and all of our volunteers who helped make it all happen!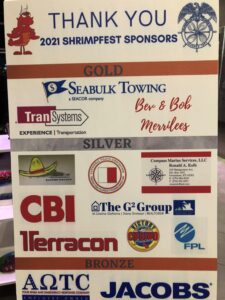 PARTNER SPOTLIGHT
One of our new Partners to join the Propeller Club for 2021 is Allied Universal.  Thank you for your support!  Click on the logo to go to the Allied Universal website!