The Propeller Club of Port Canaveral has a Scholarship Endowment Fund with the Brevard Schools Foundation.  The fund currently stands at over $30,000 and the goal is to build the fund so that proceeds can fund scholarships for many years to come.  Donations to the endowment fund can be made to the Brevard Schools Foundation directed to the Propeller Club of Port Canaveral Fund and are tax deductible.
MEMORIAL SCHOLARSHIP DONATIONS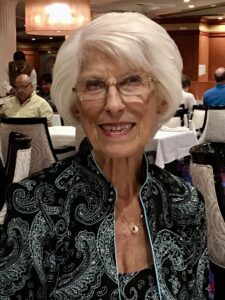 IN MEMORY OF LAURA AUAD KOTAS
Laura Auad Kotas was infinitely curious, loved to learn and was inspired throughout her life by opportunities for education.  She believed that learning new things kept her young.  In 1945, she wanted to go to college, but her family could not afford tuition.  Instead, she graduated from secretarial school, then spent the rest of her life encouraging others to reach for their dreams through education.  This fund has been established in her honor, with deepest wishes that it enables those who want to learn to be able to do so.  Established by her family, Malcolm Brand and Lauren Kotas Brand.