SIEGRID DIXON RECOGNIZED WITH LIFETIME ACHIEVEMENT AWARD

 
Siegrid Dixon, a two-term Past President of the Propeller Club of Port Canaveral and long time Board Member,  was recognized with a Lifetime Achievement Award at the October Luncheon.  Siegrid  contributed to growing the club membership in the early years and recruited many area maritime and community  leaders to join the Board.  She worked in the Maritime Industry with Premier Cruise Lines and at the Canaveral Port Authority.   She was a strong advocate for the creation of the HELM Maritime studies program and the Scholarship program.  Congratulations to Siegrid on her many years of dedication to the club!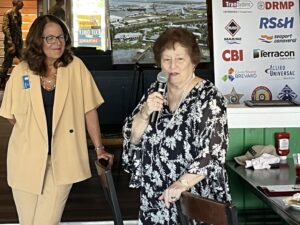 Benefits of Propeller Club Membership
We are a local chapter of the International Propeller Club of the United States, a business network dedicated to the promotion of the maritime industry, commerce, and global trade. Our club brings together the Port Canaveral and Central Florida maritime community by holding monthly luncheons that feature guest speakers. Three months of the year, April, July, and December, we hold special events instead of the luncheon.  We also hold networking Happy Hour events during the year.
There are many benefits to joining the International Propeller Club. These include:
Networking opportunities with other maritime and Port Canaveral community members.
Opportunities to give back through the club's charitable programs, initiatives and support for community events and organizations.
Meeting and engaging elected officials and government representatives.
Being part of a dynamic community of maritime and Port Canaveral area professionals dedicated to improving water transportation and our intermodal transportation system.
Many social events throughout the year to help you build personal and business relationships with others in the maritime community.
Leadership opportunities in your industry.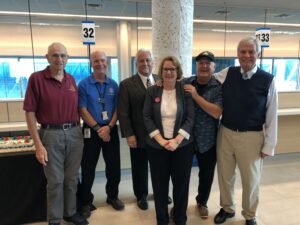 Founding members at the 2019 club's annual meeting and 20 year celebration.
Our NEXT luncheon is scheduled for Wednesday,
February 1st
at 11:30 at Fishlips Waterfront Bar & Grill in Port Canaveral.  Our guest speaker will be the Chief of Staff of U.S. Coast Guard Seventh District.  Register online at this link:
February Luncheon 
2023 Membership Registration
is still open!  If you missed Early registration you can still renew or register online!  Payment may be made by credit card or paypal on the online registration site or send in a check to P.O. Box 501, Cape Canaveral, FL 32920.
Register online at this link
:  
2023 Registration
.
PROPELLER CLUB OF PORT CANAVERAL
2022 MARITIME PERSONS OF THE YEAR
KURT & NORMA RONSTROM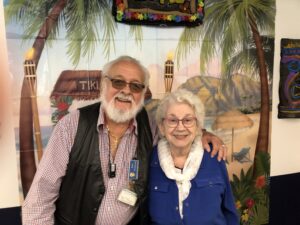 The Propeller Club of Port Canaveral has named Kurt and Norma Ronstrom as Maritime Persons of the Year for 2022.  Kurt is a Charter Member of the Propeller Club of Port Canaveral, a Past President and is also Past President and longtime member of the Navy League, Cape Canaveral Council.  Norma has worked side by side with Kurt volunteering with these organizations and working at their businesses.  The couple met in Miami and were married in 1959.  Kurt was born on the island of Gotland, Sweden and ran away to sea at the age of sixteen, eventually becoming a Marine Engineer aboard Swedish cargo vessels.  He served in the Swedish Navy for 1 ½ years.  Norma was born in Bradford PA.  and after college at Edinboro State Teacher's College, the Cleveland Institute of Art, and Western Reserve University, she moved to Hollywood, Florida and worked for Southern Bell.  After they were married Kurt was drafted and served 2 years in the U.S. Army.  He became a U.S. citizen in 1961.  Together they raised four children and are proud grandparents and great grandparents!
Kurt founded KMD Ship Repair, Inc. in Miami and later relocated to Port Canaveral.  He did ship repair work on a variety of vessels, especially Navy vessels and cruise ships.  When he lived in Miami he helped found the Seafarer's Ministry and later was involved in starting the Seafarer's Ministry at Port Canaveral.  He is well known for his many years of cooking lunches for visiting Seafarers at the Canaveral Port Ministry about once every three months with support from the Navy League and the Propeller Club.  Kurt instituted and has led the Port Canaveral Maritime Day commemoration for twenty years beginning in May of 2001, again with the support of the Navy League and the Propeller Club.  Norma was instrumental in managing and planning events for these non-profit organizations and in KMD business operations.  In addition, she has volunteered extensively playing the piano at Church services including for over 20 years with the Salvation Army.  At one time she was playing the piano at three different churches every Sunday.   
Together Kurt and Norma have had a tremendous impact on bringing together the Maritime Community in the Port Canaveral area and beyond through their many years of dedicated service especially in their efforts with Seafarer Ministries and in making sure that Merchant Mariners and the Maritime industry receive due recognition and honor.  The Propeller Club of Port Canaveral is proud to honor them as Maritime Persons of the Year for 2022 and to give them well deserved recognition for a lifetime of service.
JANUARY LUNCHEON
Our first luncheon of the year was held on Wednesday, January 11 at Fishlips Waterfront bar & Grill. Incoming President Kevin Jobes talked about the club with a look at who we are and what we are all about. He highlighted all of the events, networking, and giving back to the community and emphasized that we are about family. His calls for more involvement this year were heeded the following Saturday with a great turnout for the first KBB Clean Up day of the year! (Separate post on that coming!) Many of our Partners took the opportunity at the luncheon to say a few words about their companies, and several new members introduced themselves.  Winter interns from Massachusetts Maritime Academy and Florida Tech working at Port Canaveral and an intern working with the Canaveral Pilots from Texas A&M Maritime Academy were introduced. 

PROPELLER CLUB OF PORT CANAVERAL
2022 MEMBER OF THE YEAR
JACK CROCKETT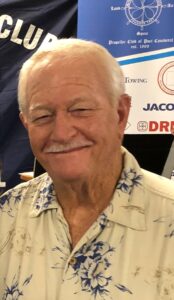 The Propeller Club of Port Canaveral has named Jack Crockett Member of the Year 2022.  Jack is a fifth generation Floridian raised in Brevard County and graduated from Cocoa High School in 1962.  He is a 1966 graduate of the Citadel.  Jack served six years in the U.S. Air Force including service in Viet Nam and at Patrick Air Force Base.  Following his military service, Jack embarked on a business career that took him to the Florida panhandle and back to Brevard County in businesses ranging from hotel management, banking, land development, and charter fishing boats.  Crockett Blvd in Merritt Island is named after him and he served as President of Crockett Groves on north Merritt Island.  For many years he was a force in local Democratic politics and he was instrumental in the passing of the TDC hotel tourist tax with the slogan "the tax you don't pay". 
Jack joined the Propeller Club of Port Canaveral in 2005 and quickly took on leadership positions both at the local level and at the International level.  Jack served as President in 2010 and starting in 2012 served six years as Treasurer of the International Propeller Club.  He was instrumental in helping the IPC navigate some turbulent waters and helped bring the organization back on a steady course.  During his tenure on the International Board, he was dedicated to helping IPC improve administration and communication between HQ and the Ports.  He built strong relationships with club members across the state, country, and overseas.
Jack was the driving force to bring the International Propeller Club Convention to Port Canaveral in 2017.  He successfully brought together a group of local club volunteers and mentored them through the process of planning and pulling off a successful convention which was well received by the international membership.  Jack continues to serve on the Board and especially enjoys identifying new potential club leaders as Nominating Committee Chair.  His passion for the Propeller Club is unsurpassed and he is already advocating for Port Canaveral to host another International Convention!  The Propeller Club is honored to recognize Jack Crocket for his years of dedicated service to the Propeller Club at both the local and International level as well as to Port Canaveral, Brevard County, and our nation.