RADM WAYNE JUSTICE, USCG (RET) NAMED INTERNATIONAL PROPELLER CLUB MARITIME PERSON OF THE YEAR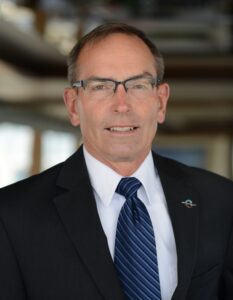 The International Propeller Club has announced that RADM Wayne Justice, USCG (Ret) has been selected as the 2023 Maritime Person of the Year.  Justice was first named The Propeller Club of Port Canaveral Maritime Person of the year in April and his name was put forward at the Propeller Club Southeast Region conference held in Savannah where he was selected as the Southeast Region Maritime Person of the Year as well.  Justice currently serves on the Canaveral Port Authority Board of Commissioners. He was first elected to the Board in 2014 and is now serving his third term. He has served as Chairman twice, first in 2018 and again in 2021, leading the commission during the severe challenges of the pandemic. Port Canaveral is the world's busiest cruise ship port and is a major economic engine for the Space Coast and Central Florida. Justice is a 1977 graduate of the U.S. Coast Guard Academy and earned Masters' degrees from Nova University and the U.S. Naval War College. His 37 year Coast Guard career culminated with command of the Fifth Coast Guard District which covers the Nations's mid-Atlantic region from New Jersey to North Carolina. Other assignments included Assistant Commandant for Capability, Director of Response Policy, Seventh Coast Guard District Chief of Staff, and Coast Guard Aide to Presidents Bush and Clinton where his responsibilities included carrying the nuclear football. He commanded four Coast Guard cutters, three of which were homeported in Florida. Justice has served on the Propeller Club of Port Canaveral Board for over ten years. He also volunteers and serves with other community non-profits including Crosswinds Youth Services of Melbourne; the Military Officers Association of America, Cape Canaveral Chapter; and the Navy League, Space Coast Council. The Propeller Club of Port Canaveral is proud that RADM Justice, has been recognized by the International Propeller Club for his service to our nation, the maritime industry, Port Canaveral, and our community! A presentation will be made at the International Propeller Club Annual Convention in September in Charleston, South Carolina.  
NEXT EVENTS
October Luncheon
Our next Luncheon will be held on Wednesday, October 4, at Fishlips Waterfront Bar & Grill at 11:30 am.  Our club President, Kevin Jobes, will provide an update on the
International Propeller Club Conference
 and Rocky Johnson will discuss the 2023 HELM program.   Register online at this link:
October Luncheon

PROPELLER CLUB OF PORT CANAVERAL
2023 MEMBER OF THE YEAR
DENNIS THOMPSON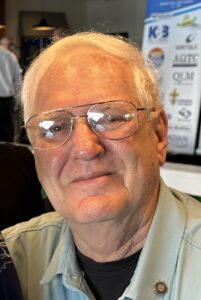 The Propeller Club of Port Canaveral has named Dennis Thompson 2023 Member of the Year. Dennis is a founding member of the Propeller Club of Port Canaveral, is a long time Board Member and a Past President. He is passionate about the club and the maritime industry and he works tirelessly towards furthering the club's missions and activities. He served as the International Propeller Club Southeast Regional Vice President for three years, 2010 – 2012, helping to build the region into an influential voice in the IPC. He has had a passion for helping to establish new clubs and bringing dormant clubs back to life. Dennis earned an MBA from Anna Maria University and currently serves as a Trustee for the institution. He has had a long and successful career as an Insurance Agent. He is a well known drummer on the local music scene and brings his talents to some of the annual Propeller Club functions. The Propeller Club of Port Canaveral is honored to recognize Dennis Thompson for his dedication and service to the Propeller Club of Port Canaveral, the International Propeller Club, and our community. The presentation was made at the club's annual ShrimpFeast fundraiser held on April 14 by club President Kevin Jobes. Congratulations to Dennis Thompson!
CONGRESSMAN POSEY SPEAKS AT SEPTEMBER LUNCHEON
Congressman Bill Posey was the Guest Speaker at the September Propeller Club Luncheon held at
Fishlips Waterfront Bar & Grill
in Port Canaveral. Posey discussed some of the important issues facing Congress, especially the upcoming debt ceiling debate. He highlighted legislative successes and challenges including making sure that all Space Industry workers were included in the CARES Act rather than only "essential workers". Posey stated that he has pushed back against the proposed NOAA Right Whale regulations which he considers an unnecessary overreach that would greatly expand reduced speed zones and the amount of vessels impacted.