RADM WAYNE JUSTICE, USCG (RET) NAMED INTERNATIONAL PROPELLER CLUB MARITIME PERSON OF THE YEAR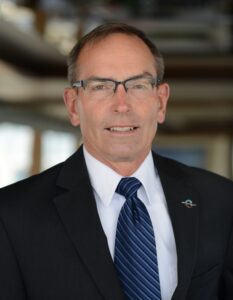 The International Propeller Club selected RADM Wayne Justice, USCG (Ret) as the 2023 Maritime Person of the Year.  Justice was first named The Propeller Club of Port Canaveral Maritime Person of the year in April and his name was put forward at the Propeller Club Southeast Region conference held in Savannah where he was selected as the Southeast Region Maritime Person of the Year as well.  Justice currently serves on the Canaveral Port Authority Board of Commissioners. He was first elected to the Board in 2014 and is now serving his third term. He has served as Chairman twice, first in 2018 and again in 2021, leading the commission during the severe challenges of the pandemic. Port Canaveral is the world's busiest cruise ship port and is a major economic engine for the Space Coast and Central Florida. Justice is a 1977 graduate of the U.S. Coast Guard Academy and earned Masters' degrees from Nova University and the U.S. Naval War College. His 37 year Coast Guard career culminated with command of the Fifth Coast Guard District which covers the Nations's mid-Atlantic region from New Jersey to North Carolina. Other assignments included Assistant Commandant for Capability, Director of Response Policy, Seventh Coast Guard District Chief of Staff, and Coast Guard Aide to Presidents Bush and Clinton where his responsibilities included carrying the nuclear football. He commanded four Coast Guard cutters, three of which were homeported in Florida. Justice has served on the Propeller Club of Port Canaveral Board for over ten years. He also volunteers and serves with other community non-profits including Crosswinds Youth Services of Melbourne; the Military Officers Association of America, Cape Canaveral Chapter; and the Navy League, Space Coast Council. The Propeller Club of Port Canaveral is proud that RADM Justice, has been recognized by the International Propeller Club for his service to our nation, the maritime industry, Port Canaveral, and our community! A presentation was made at the International Propeller Club Annual Convention held in September in Charleston, South Carolina.  
Our 
2024 Membership Campaign
 is now open.  We would like to invite all of our current Members and Partners to renew for 2024 and all of our friends and interested community members to join us as new Members or Partners.  All who renew or join prior to January 1, 2024 will receive the Early Bird discount on dues.  Payment may be made by credit card or paypal on the online registration site or send in a check with the attached 
Early Bird Membership
 form to the address provided on the form. 
Register online at this link
:  
2024 Early Bird Registration.
HOLIDAY PARTY

Our last event of 2023 was the annual Holiday Party held this year at the
Hampton Inn & Suites / Home2 Cape Canaveral Cruise Port
with catering by
Two Chicks and a Pot
. It was a great close to another successful year. The Board for 2024 was sworn in and we had Nancy Pierce Sims, former Administrator of the
Propeller Club – Port of Tampa
, as our guest of honor. She was recognized for her many years of support, mentoring and friendship to our club. Remarks were give by our outgoing President Kevin Jobes, incoming President Theresa Clifton, Port Canaveral CEO Capt. John Murray; and Port Commissioner, and 2023 International Propeller Club Maritime Person of the Year, Radm Wayne Justice, USCG (Ret.). We look forward to another busy and productive year in 2024.
PROPELLER CLUB OF PORT CANAVERAL
2023 MEMBER OF THE YEAR
DENNIS THOMPSON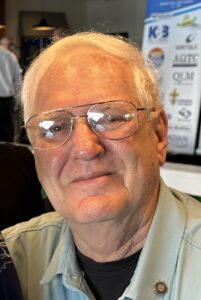 The Propeller Club of Port Canaveral has named Dennis Thompson 2023 Member of the Year. Dennis is a founding member of the Propeller Club of Port Canaveral, is a long time Board Member and a Past President. He is passionate about the club and the maritime industry and he works tirelessly towards furthering the club's missions and activities. He served as the International Propeller Club Southeast Regional Vice President for three years, 2010 – 2012, helping to build the region into an influential voice in the IPC. He has had a passion for helping to establish new clubs and bringing dormant clubs back to life. Dennis earned an MBA from Anna Maria University and currently serves as a Trustee for the institution. He has had a long and successful career as an Insurance Agent. He is a well known drummer on the local music scene and brings his talents to some of the annual Propeller Club functions. The Propeller Club of Port Canaveral is honored to recognize Dennis Thompson for his dedication and service to the Propeller Club of Port Canaveral, the International Propeller Club, and our community. The presentation was made at the club's annual ShrimpFeast fundraiser held on April 14 by club President Kevin Jobes. Congratulations to Dennis Thompson!
RADM BOB MERRILEES, USCGR (RET.)
July 25, 1938 – November 18, 2023
Long time Board member of the Propeller Club of Port Canaveral, RADM Bob Merrilees, USCGR (Ret) passed away peacefully on Nov. 18. He was laid to rest on December 6 at the Cape Canaveral National Cemetery following a Celebration of Life at the Wylie-Baxley Funeral Home, Merritt Island, Florida. Bob was honored by the club, along with his wife Bev, as Maritime Persons of the Year in 2021. He had an amazing dual career as a civilian with NASA and in the U.S. Coast Guard Reserve culminating with his serving as the Senior Coast Guard Reserve Officer before his retirement. RADM Merrilees rose through the ranks from Radioman Third Class to Flag Officer serving in both the Pacific Area and the Atlantic Area from 1990 to 1994. He commanded several major organizations and served as the Coast Guard member of the Reserve Forces Policy Board offering independent advice to the Secretary of Defense and Congress. RADM Merrilees has been awarded the Coast Guard Distinguished Public Service Medal, two Legions of Merit for exemplary service, the Meritorious Service Medal, two Coast Guard Commendation Medals, and the Coast Guard Achievement Medal, among others.  He served in national and community organizations before and after retiring. He served as National President of the Reserve Officer's Association and on numerous  Boards including as President of the Canaveral Lighthouse Foundation.
NOVEMBER ANNUAL MEETING & VETERANS LUNCHEON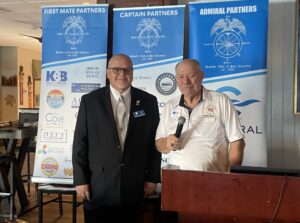 The Propeller Club's November Veterans Luncheon and Annual Meeting was held at
Fishlips Waterfront Bar & Grill
, Port Canaveral this week. The Board for 2024 was voted in and a Salute to Veterans featuring the Armed Forces medley performed by Steve Kirsner and Dennis Thompson was held. Our guest speaker was Dean Schaaf, President of the
Brevard Veterans Memorial Center
. He gave a presentation highlighting some of the museum displays, monuments, park amenities and plans for an amphitheater!